Construction of large storage tanks
Cylindrical atmospheric tank with flat bottom and a fixed or floating roof and placed in a protective pocket is designed for storage of liquids and bulk materials in the petrochemical, chemical and fuel warehouses. For the filling and distribution pumps are used for potentially explosive atmospheres. The whole technology is sufficiently protected against fire and explosion. For the storage of liquids at low temperatures, we design and deliver spherical spherical tanks.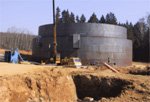 Storing technology for inflammable liquids
Storing tanks for inflammable liquids are double wall vessels with tank wall damage detection. Inflammable liquids can be stored in nitrogen protective atmosphere. The pumps suitable for explosive atmosphere are used for tanking and distribution. The whole technology is fully fire and explosion-proof. Technology is suitable first of all for methanol storages and petrol stations.
Equipment for homogenization of tank capacities
Technology is based on principle of oriented nozzle mixing. It is applicable to large-scale tanks of fuel, oils, tars and everywhere the aplications of mechanic mixers are problematical.

Apparatus for industry
ZWe perform the designs, calculations, constructions, manufacturing and deliveries of apparatus for chemical, food and treatment industries like they are pressure vessels, absorption columns, heat exchangers, tanks etc. All works are performed in compliance with the valid standards and legal regulations by means of up-to-date software and workshop equipments.
Oil and aerosol separators, filters
We deliver the oil and aerosol separators equipped with special built-in filter elements for cleaning gases after compression. Separation elements are designed for the required demands and the filling is optimized according to the quality of the cleaned gas.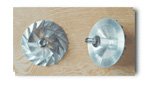 Oil filtration
Pressure precoated leaf filters are suitable for vegetable oils filtration both for industrial and for food purposes. The are made in stainless or combined workmanship in capacity series according to filtration - surface 3, 6, 9, 12, 18 and 30 m2. The capacity can be modified according to customer´s demands.
Blenders and controlled volume devices for liquids
The equipments are made in the large capacity series with the possibility to choice type and amount of outputs. They are applicable to the bakeries and the other plants where is necessary to dose the controlled volume of water or other liquid with the required temperature.

Expansion engines
Expansion engine combined with power generator is used as a replacement of natural gas pressure reduction stations. The natural gas pressure drop (from 22 to 3 bar) is utilized by the expansion engine for power generation. Also expansion turbines for liquefaction of permanent gases are designed and delivered by ATEKO a.s..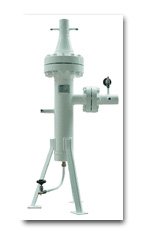 Rankin organic cycle - ORC
The equipment is applicable to low-BTU and waste heat utilization for power production. Process is based on the principle of closed Rankin organic cycle. The equipment is designed in the skid version to be easily set and connected with the user's system. All apparatus are installed in the load bearing steel structure.